How to find the wordpress theme or plug-in name of a competitor website or blog
In my three month journey of blogging, I made a lot of experiments with my themes, plug-ins and widgets. I ended up changing my WordPress theme everyday. It used to get very confusing and tiring installing and customizing a new theme every time. Even after becoming pretty sure and finalizing a theme for my site, I ended up envying the layout and appearance of a competitor site. I'm sure I would have Googled the keywords 'best WordPress themes', 'top WordPress themes for blogs' and many more the maximum number of times. When it comes to plug-in's, WordPress offers 1000s of plug-in's with the same core function, but with a few differences in layout and added functionalities. I've even experimented with a lot of plug-ins for SEO, Mobile optimization, Database optimization and much more. You should definitely check out:
After a month of wasting hours and days of experimentations and virtual research, I got acquainted with 2 services that allow us to find the theme name and even the names of the plug-ins installed on a WordPress site. All you have to do is enter the site domain name and press ENTER. These services take a few seconds to display the theme name and the plug-ins used by the required website. These services are: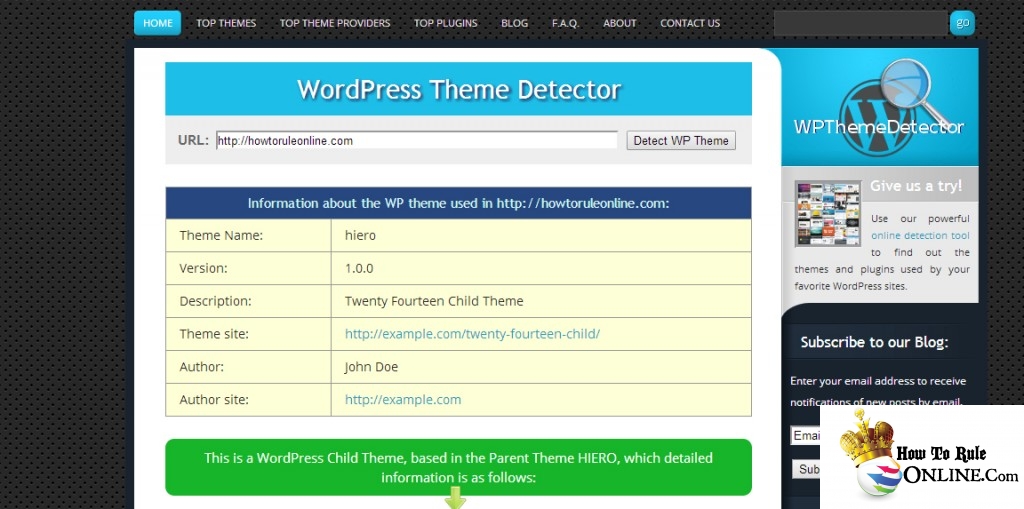 Now this is the best website to find the theme name and plugins used on a site using WordPress platform. You can find the theme name, version used, description, theme site, author and author site too. As you can see above, I use the theme called 'Hiero'. In my case it is parent theme because of the little modifications that I've made in my theme CSS and function.php with the help of the theme authors.  The original version of the theme is different.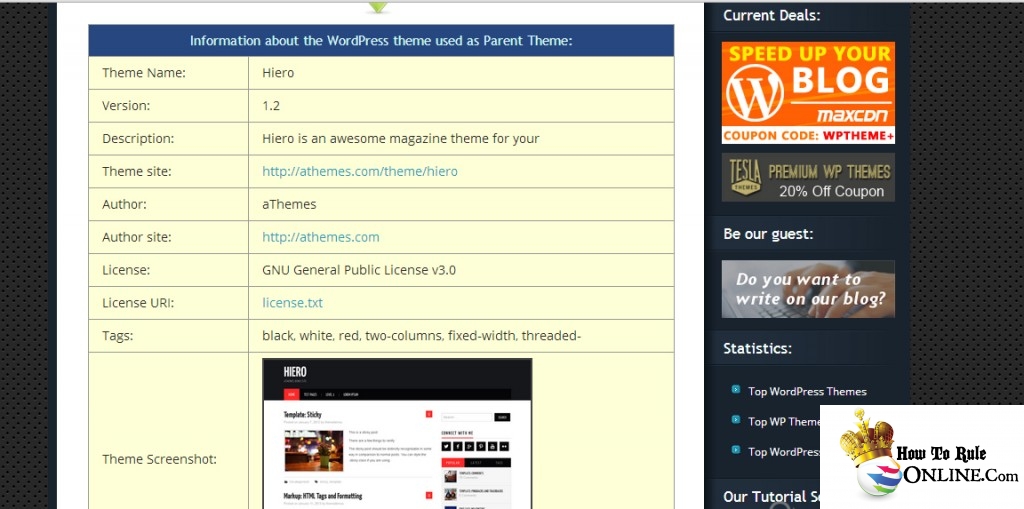 The above screenshot shows the details of the parent theme that I use at HowToRuleOnline. The theme author name, website, license, tags and screenshot have been shown above. Moreover, this service also helps you to find the plugin names used on the WordPress site.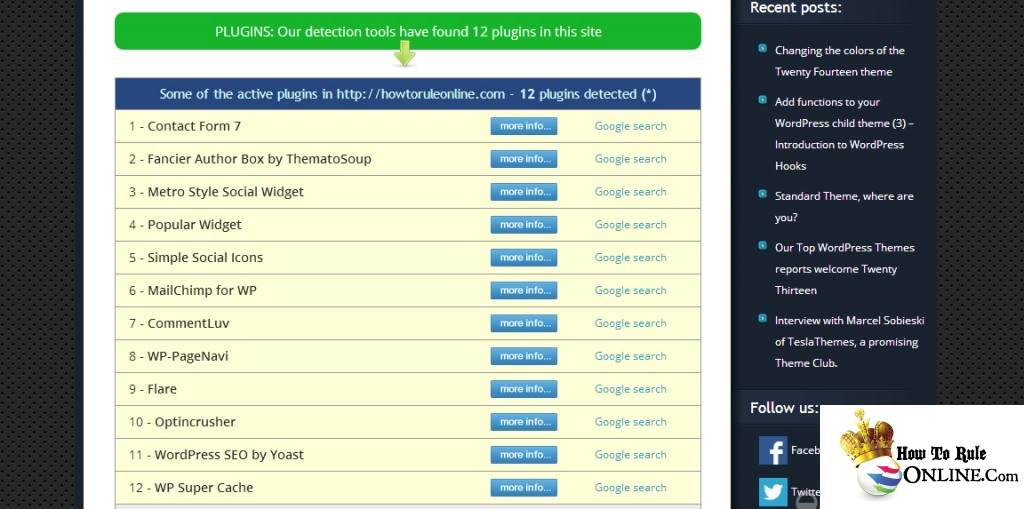 This screenshot shows a list of plugins that I use on my website. I've used this tool a lot of times to find and install the plugins that I find useful on other sites using a WordPress platform.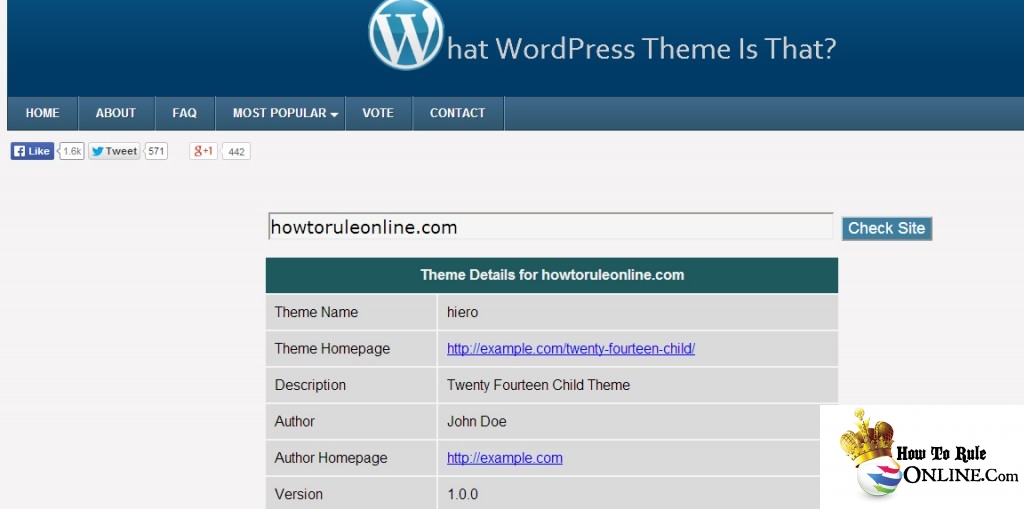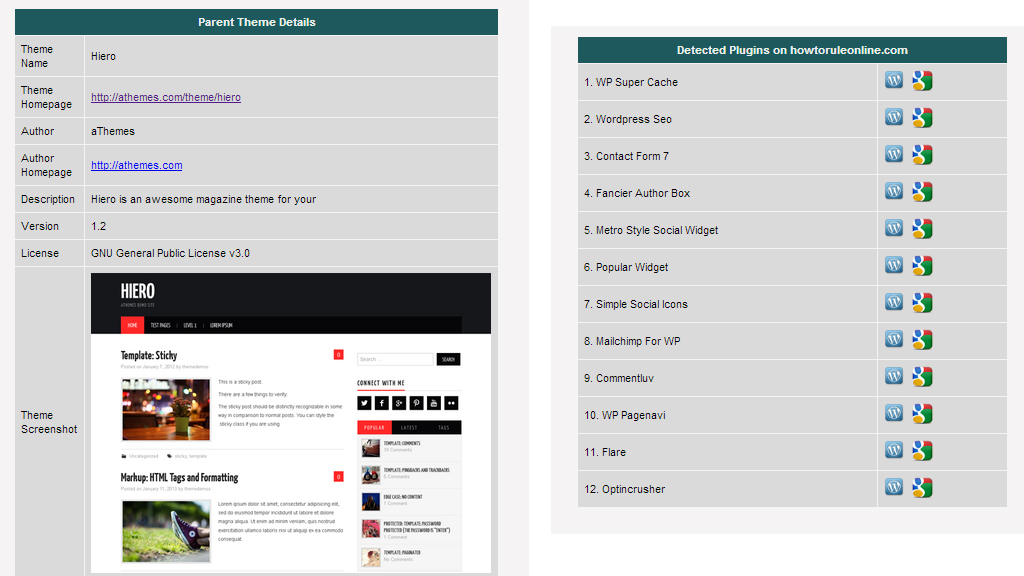 You can make use of this free service too to determine the name of the theme used on the required website. It shows all the details regarding the parent theme, author information and even the plugins used.
So, if you're new to blogging and if you end up landing on a beautiful site, you can make use of these free services to determine the theme name and the plug-ins used in it. More than 80% of blogs work on the WordPress platform and these services make it easier for us to find the name of the themes that these eye-pleasing blogs use and install them further on our own blogs.
I use the theme called 'HIERO', which is a free theme designed by AThemes. I love the simple magazine layout and interface that it offers. I succeeded in making a few changes in it's CSS with the help of the designers. The support sections of all the active wordpress themes are really great and helpful for WordPress users' like us.
Moreover, we often find some really attractive and cool plug-ins and widgets on blogs. These services make it very easy for us to find the names of these plug-ins and install them on our respective blogs.
I hope this post helps you in finding and installing the themes and plug-ins that you like. Please feel free to share your views through the comments section.
To keep yourselves updated with the latest WordPress posts, subscribe to our weekly News Letter(We don't spam ):
The following two tabs change content below.
Nishkarsh Sharma
Nishkarsh is an undergraduate student who loves to read and write. He's passionate about online marketing. Is a maniac and a BIG time foodie. He enjoys being on the internet, be it any platform. Social Media Marketing, Search Engine Optimization and blogging are his areas of interest.
Latest posts by Nishkarsh Sharma (see all)
Google+