HowToRuleOnline GiveAways-Zen Ultra Tab A-100 worth Rs.6000 (powered by SabKuchFree.com)
RESULTS DECLARED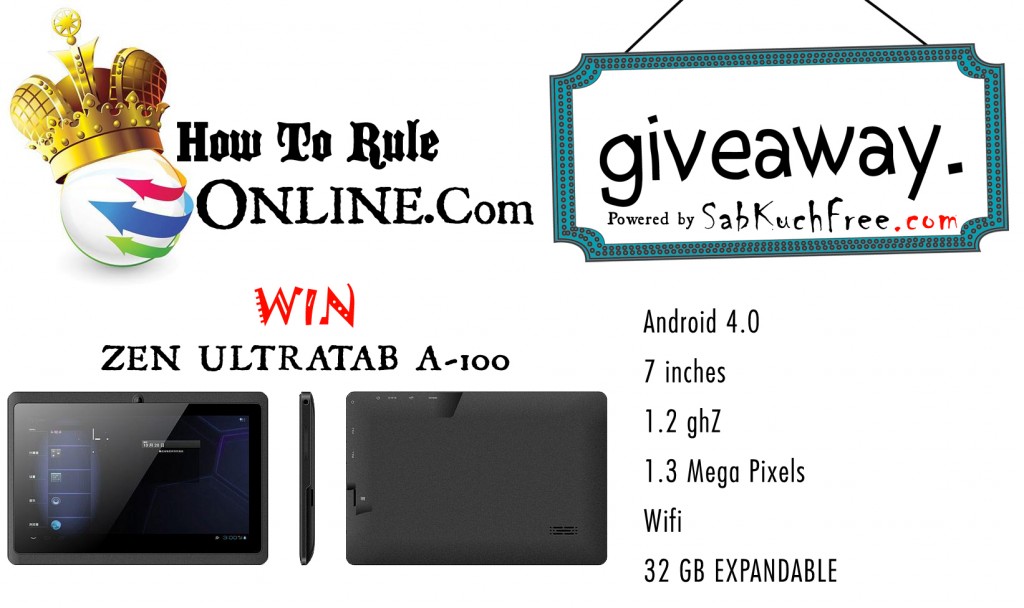 We would like to congratulate Sumit Kumar for winning this contest. It was difficult to track you though, but in the end it was worth the effort. The top 10 participants would be sent online vouchers soon.
We are giving away a Zen Ultra Tab A-100 to one of HowToRuleOnline lucky readers. The Ultra Tab has been one of the best and affordable devices on the market and received rave reviews thanks to sleek looks and the whole  Ecosystem which bundles the device with limitless apps. This contest is for Indian Readers only.
To Participate and win the contest, here are steps which you need to follow:
You simply have to answer a few questions in below widget and follow the Social accounts.
BONUS: Upload the above picture on your Facebook account, mention the link to this page and get shares on it. The top 10 participants would win coupons for the same. The verifications would be made on 2nd December only.
Winner will be announced on 30th November. Make sure you tell about the giveaway to your friends, after all sharing is caring.
 HIGHLY RECOMMENDED: