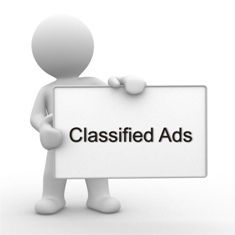 We get to see many online classified ads on various websites. We often click on them and check it out. Online classified websites allow us to post free/paid advertisements on their websites.Posting such classifieds help us ranking better on search engines and thus generating more traffic and online presence.
Top free Online Classified sites to advertise, buy and sell

Craiglist.org
Craigslist gets the top spot. It has sections devoted to jobs, housing, for sale, items wanted, services, community, gigs, résumés, and it also consists of various discussion forums. If you're offering a service on your website, post about it on craiglist. Millions of users follow and post on craglist, your website might get noticed by 1000s of them. So craiglist bags the first position among the top online classified sites.

BackPage.com
BackPage get's the second spot. BackPage is also a free online classified website which supports users like us to post advertisement with attractive pictures. You'll find advertisements from different categories on backpage. So back page bags the second position among the top online classified sites.

Oodle.com
Oodle get's the third spot. Oodle happens to have a very easy to use interface and is highly used through the social media giant Facebook. So oodle bags the third position among the top online classified sites.

ClassifiedAds.com
ClassifiedAds.com managed to get the most apt and search engine friendly domain years back. The users can post ads for cars, jobs, rela estate, services, etc.

EbayClassifieds.com
Is owned by the online giant Ebay. Is primarily used all over United States.

Olx.com
One of the most famous and socially active classified platform. It's funny and super cool advertisements set it apart. Olx gets a thumbs up for it's user friendliness and easy to use interface. Posts are first validated and then posted.